Nylon Netting
We produce the following:
High Tenacity Nylon Fishing Net;
Nyolon Monofilament Nets;
Nylon Double Knots Netting.
Nylon netting is also known as Nylon screen mesh, polyamide screen mesh and polyester screen mesh.
Material: Nylon 1010, nylon 66, polyamide and polyester fiber.
Use: Screening and filtering of pharmacy, chemical industry, dyestuff, fishing and foodstuff.
Specifications
• Weight: 162g/m2
• Mesh size: 30mm×30mm
• Mesh thickness: 2.5mm
• Size: 12mesh to 100mesh.
Size and color could be made as requirement.
Nylon Mono Multifilament Fishing Netting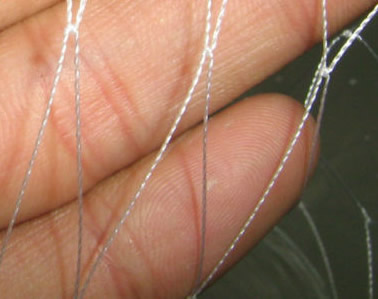 1. Diameter: 0.11mm -0.20mm
2. Mesh Size: 1"-- 6"
3. Length: 100metes, 100yards, etc
4. Double Knot,
5. Lengthwise or Depthwise Stretching
6. Color: White, Grey, Blue Color, etc.